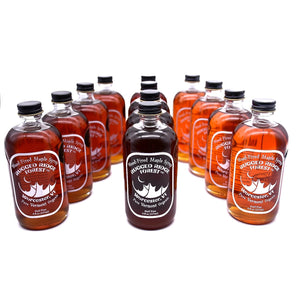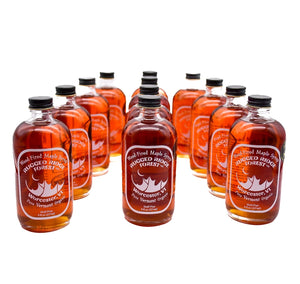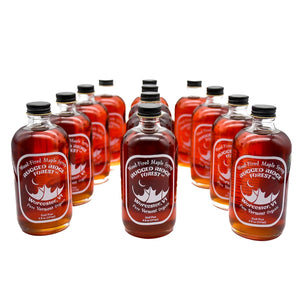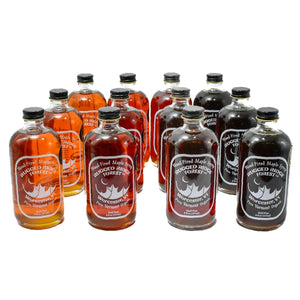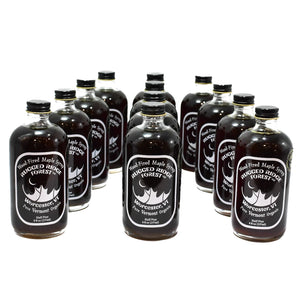 Product image 1

Product image 2
Product image 3

Product image 4
Product image 5
Product image 6
Product image 7
Product image 8

Wood-Fired Maple Syrup Case of Half Pints (12/case) FREE SHIPPING!
These cost effective cases allow you to get your hands on a volume of our product quickly and easily. Wholesale rates are great for group gift-giving, holidays, events, stocking the shelves of your retail store, or enabling that maple habit without breaking the bank! Spread it on thick and enjoy it on just about everything!

These beautiful little ½ pints make excellent gifts. They are perfectly sized as stocking stuffers and perfectly priced to give away to groups, whether as party favors at a wedding or bar/bat mitzvah or to give out around the office during the holidays. They are also perfect for people on the go, stuff one in your purse or glove compartment to ensure you never have to settle for Aunt Jemima's on your rest stop flapjacks again! Once the jar is empty, reuse it to store tinctures and other valuable liquids, or refill it with syrup from the fridge, but keep it out on the table so you don't cool your flapjacks with chilled syrup.


COMMERCIAL GRADE DISCLAIMER!!

When selecting the option including Very Dark and Strong - Commercial Grade, please bear in mind that this syrup may have some late season, "buddy" after flavors and is not indicative of the quality of the product we strive to present.  It is however, a pure maple syrup product from late season sap that some revile, and others love!  We wouldn't recommend it for flapjacks or ice cream necessarily (though some wouldn't have it any other way), but it is a strong choice when considering a syrup to bake with, make granola, or add to complex recipes.  Its' strong mapley presence really shines in the mix with other flavors, so experiment with confidence if you are so inclined!