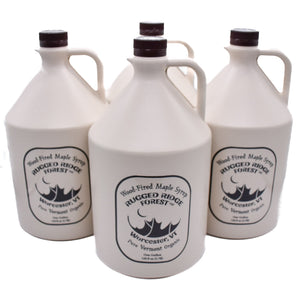 Product image 1

Product image 2
Product image 3
Wood-Fired Maple Syrup Case of Gallons (4/case) FREE SHIPPING!
A wicked deal per premium gallon of Wood-Fired, Organic Maple Syrup signed, sealed, and delivered to your door!  Even living in Vermont, never have we seen this price on the shelf, as it is usually only reserved for business to business contracts after negotiation. But we've haggled enough, and are ready to cut to the chase: We want you to enjoy our delicious, wood-fired, organic maple syrup and to share it with those around you.
Add a dash to your coffee, make a maple balsamic salad dressing, marinate your meats, take the edge off of a spicy dish, or drizzle it over some ice cream.  We've yet to find a dish that couldn't be improved by bit of maple syrup!
Spread it on thick and come back for more!